MISSION STATEMENT:  Showing Jesus' Love through our Action
Kyong C. Weathersby
Organizer & Personal Ministry Director
Mena Seventh-day Adventist Church
Mena, Arkansas
479-243-9216
One morning I felt such a burden for our church and our community, so I prayed earnestly to the Lord about our church and about our community on how we could serve our community better with an ongoing outreach project.  
Then, I heard a steal voice from the Lord and He said to me that we should "Open a soup kitchen." 
---
 I didn't even know what a soup kitchen was, because I was born and raised in South Korea.
 I got up from prayer with an obedient heart, and I opened my computer and searched Google about information concerning what a soup kitchen was. I learned from online that many large cities have soup kitchens to feed the homeless; and needy people. I learned that they get donations from a "FOOD BANK" to help feed these people.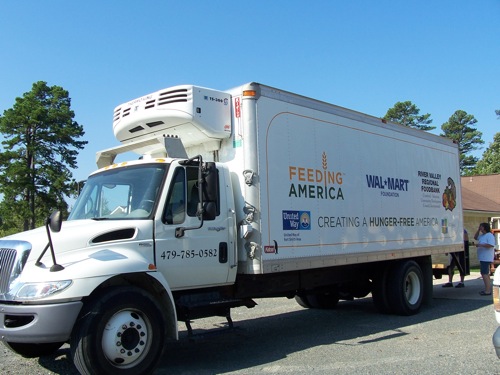 Here in Mena, Arkansas, which has about 6,000 people, we have one of the poorest counties in the U.S. This town has many needy people who are depending on welfare, food stamps, and handouts from different churches. Later, I found out that Polk County, which is in Mena, is the second poorest county in Arkansas where many needy people live. 
By the grace of God, I found one food bank that was willing to work with us. I applied to be an agency with them and was approved to receive support from the food bank in order to open our soup kitchen up once a week. It was a big blessing to have this support and to receive from the food bank, but the prices on the donated items are so small that it is also too good to be true. They even deliver the items that we purchased from their warehouse to us in Mena, and that is really helpful.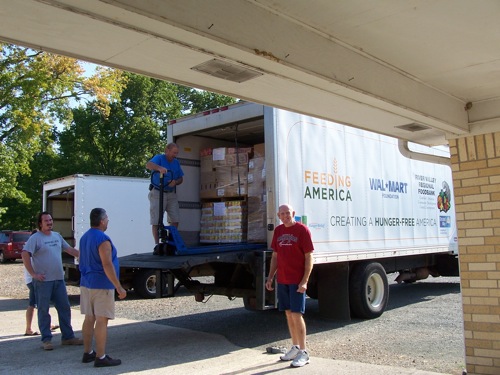 I took this information to our church board and explained that the Lord spoke to me about opening a soup kitchen to feed our community. Our church attendance is about 30 to 40 members on the Sabbath-day, and the majority of them are elderly. I wasn't even sure if we had enough manpower to run a soup kitchen once a week.  Thankfully, the church board thought that the idea would be a wonderful outreach program, and we got the approval from the church board and they gave us a $200.00 monthly budget.  I didn't think we could run the soup kitchen with that amount, but, I took it as "seed" money. I totally trusted in the Lord that He will provide all our needs to run His soup kitchen. Several church members were so excited to be a part of this outreach project, and we formed a soup kitchen committee. Praise the Lord!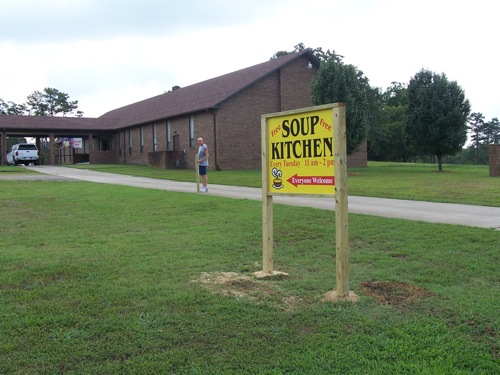 As we started to receive food from the food bank delivery, we discovered that we needed a place to stock the food up. So we decided to build a food pantry for these items.  Around that time, we were planning to go to 3ABN to tape some cooking programs, but the programs had to be canceled due to a lightning strike that hit Studio A and knocked out its power. The money that we were going to use for the 3ABN trip to tape the cooking shows, we donated it to the Soup Kitchen in order to build an 8 feet x 8 feet food pantry. I praise God for Brother Weibe who is 88 years old, my husband, Larry and Emo's unselfish labor for Jesus. It took them two days to finish the beautiful cabinet.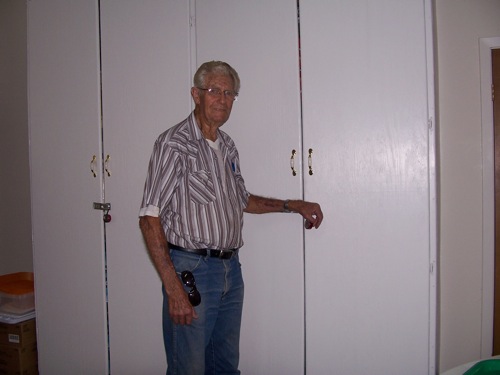 A week before the grand opening day of July 17, 2012, Larry & I put up a permanent soup kitchen sign below the church sign on Highway 71, which is the main highway in Mena. It is a bright yellow sign with large black letters that read "Free Soup Kitchen, every Tuesday, 11 am – 2 pm, Mena Seventh-day Adventist Church."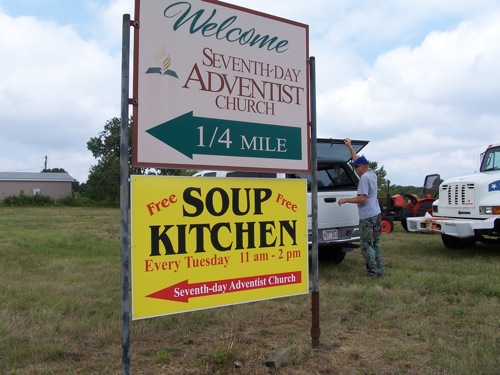 The owner of McDonald, Mrs. Claudia Brown saw the sign while we were getting ready to put it up on her way to go to another town, and when she saw the sign she had a deep burden that she wanted to be a part of our soup kitchen. She couldn't toss off this burden for a week.  Finally she contacted one of our soup kitchen committee, Barbara Morrow, and wanted to know how she can help us out. Praise the Lord! I believe that it had to be the Holy Spirit who impressed upon her heart to be a part of our soup kitchen. When I heard that the owner of McDonald wanted to help, I thought she was going to donate things from her store. I was thinking, what are we going to do with hamburgers, since we are going to feed vegetarian foods? But, I found out that she was going to go to Sam's Club, which is in Fort Smith, Arkansas, about two hours away and buy items like fresh produce, can goods, eating utensils, take out containers, rice, pasta, almost everything we ask for in order to support the soup kitchen. I know that Claudia was sent by God to help us. Claudia has been donating items for our soup kitchen week after week, and I appreciate her willingness to help us sooooooooo much! What is so amazing to me is that she is not even a Seventh-day Adventist. It is God thing!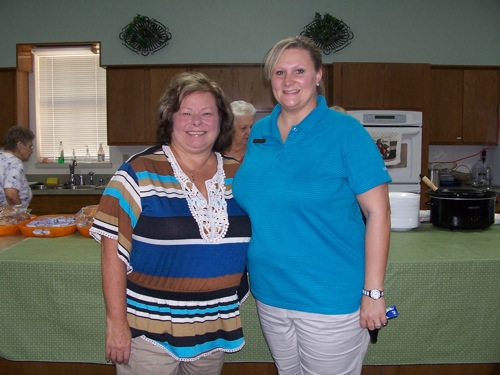 Claudia on left, with her store manager Michelle
Another thing that we needed was a freezer to keep the foods fresh and God impressed one of our church members to donate part of the cost for a brand-new freezer. Praise the Lord!
We had some problems right before the Grand Opening day, so I knelt and prayed to the Lord, and poured out all my problems to Him. The Holy Spirit led me to open up the scriptures to Philippians 4:6, 7 – "Be anxious for nothing, but in everything by prayer and supplication, with thanksgiving, let your requests be made known to God, and the peace of God, which surpasses all understanding, will guard your hearts and minds through Christ Jesus."  You can expect the devil to come in and cause problems, but don't be discourage, take them all to God and He will set matters right! Praise His Holy Name, if God be for us, who can be against us? Because He gave me peace and joy in heart, I was able to forgive all of them who accused me and caused me some trouble. God is faithful and He took care of all the problems for me. Praise the Lord! God is in total control of everything!  
The grand opening day came, and I cooked enough to feed about 100 people. Many asked me how many people will come, and I had no idea. I told them that God knows how many people we can handle. We fed 30 people including church members in the first week! Nadine, who is 86 years old, told me that she didn't think that we would have anyone from community come. She was surprised to see the people from community walk into our church and eat. I wondered why she said that comment.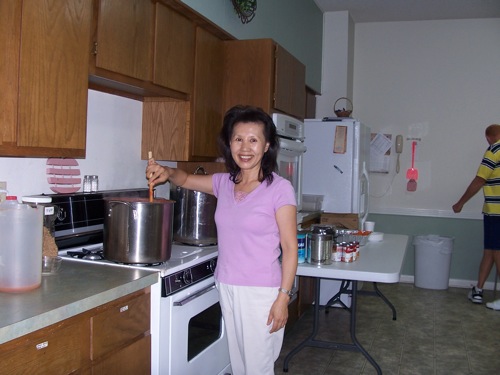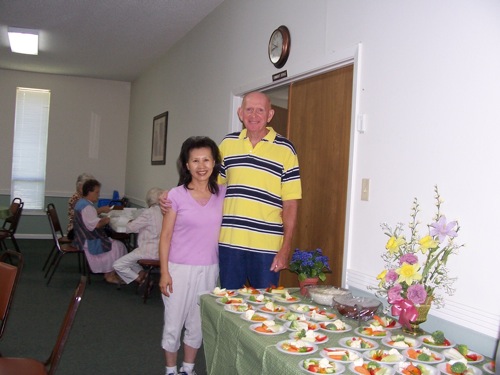 Several volunteers were expecting a big crowd and we only fed 30 people, causing some to get really disappointed.  Someone even told me that we would be better off shutting down the soup kitchen if we don't have at least 50 people from the community come. I was so sad to hear these negative comments, becauseI know it will grow as time goes by.  I took this matter to the Lord, and ask Him on bended knees, to "please forgive us of our lack of faith, that this soup kitchen is your function, and you have provided us with so much food, and it is no good to have the food just sit there!  Please show us your power and send us more people. We need encouragement."
The Lord heard my prayer and He sent 51 people the next week, 59 people after that, then He sent 84 people after that, then He sent 91+ people, then He sent 102+… God is good and Heis in total control of everything.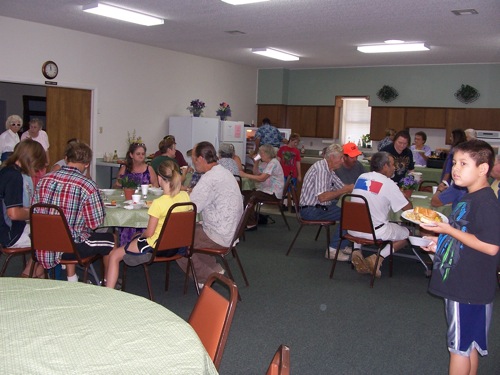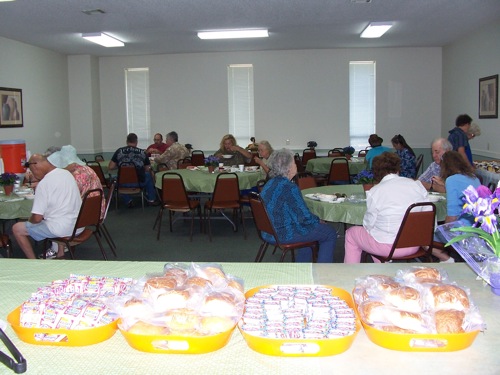 We really needed another bigger freezer, because the soup kitchen was starting to grow. By the Grace of God someone donated a new freezer that was much bigger than the one we had, and now we can store more food. God is continuing to open doors for donations, and we may need to have another freezer to meet our needs soon.
We have some faithful and wonderful volunteers.They all come week after week with a eager heart to serve the Lord and serve the community. I thank God everyday for their faithfulness and dedication to God's soup kitchen.  Without them this could not be possible.  I praise God for each of them!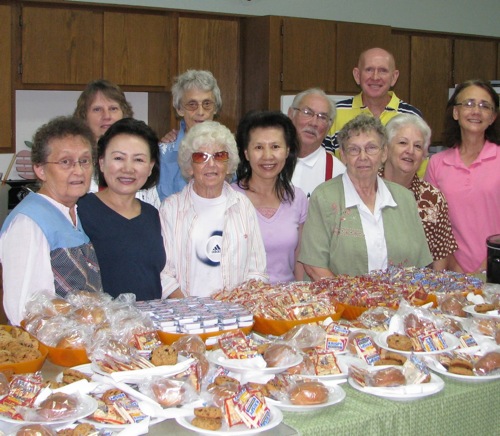 Nadine who is 86 years told me that she always wanted to work in a soup kitchen, and God answered her prayers. God will use the young and the old to work for Him, if they are faithful to Him.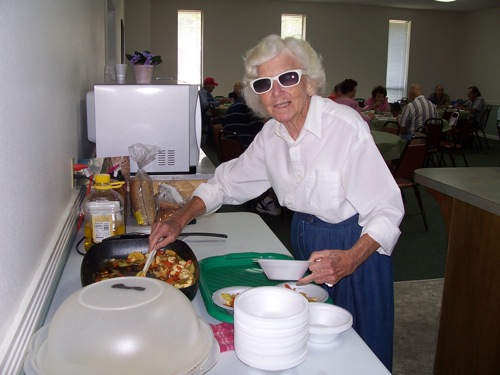 Frank, one of our volunteers, lost his lovely wife with cancer a few months ago, and was very lonely and empty. He has mentioned that he is so happy that he can come and volunteer in the soup kitchen and work for the Lord. He was tired just setting around the house, and now the soup kitchen gives him something to look forward to. God is good!  He knows what we need, and when we need it.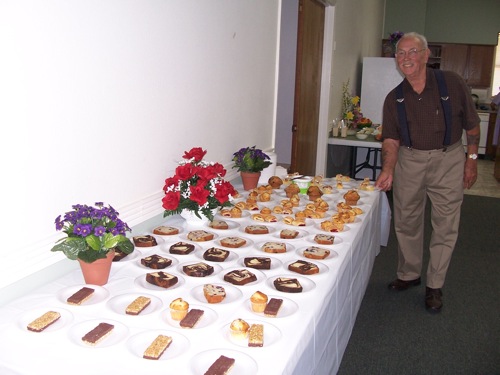 I went to talk with the local Super Wal-Mart and asked them if they would donate some expired bakery items and damaged fresh produce for our soup kitchen. I was informed that Feeding America in Mena collects their items three times a week. So I contacted Debbie who runs Feeding America in Mena, and asked if she would help us out with some bakery and fresh produce items. Thank God, she said that she would be more than happy to share some with us. Larry & I go to Feeding America to collect food every Monday.
I was impressed to talk to James Foods Grocery Store in Mena and asked them what they do with their expired bakery items and wanted to know if they would donate them to our soup kitchen. Praise the Lord! They are now saving all their expired bakery items, and we collect them every Monday to feed the community. God opens doors; all we have to do is to walk through them!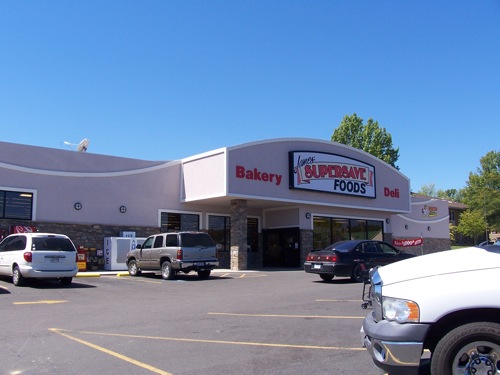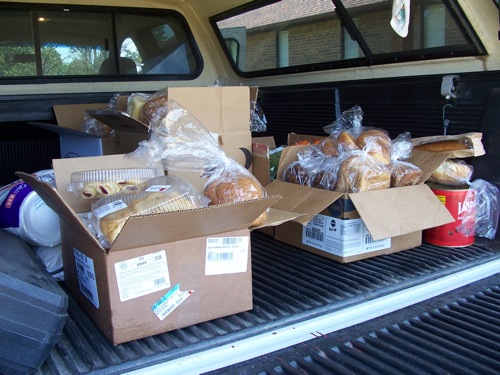 God has a thousand ways to provide all our needs and to run His soup kitchen.  I just love Him!
Now, we feed everyone who comes to our soup kitchen, and also they can take out food for their family. Also, we have a "FREE" table that is full of bakery items that they can take home to eat. No one has asked "where is the meat?" One time, we fed vegetarian chili with TVP in it, and no one complained. In fact one gentleman told us that he can't eat any red meat because of his heart condition, and we told him that we only use vegetarian meat in our chili. God is soooooo good!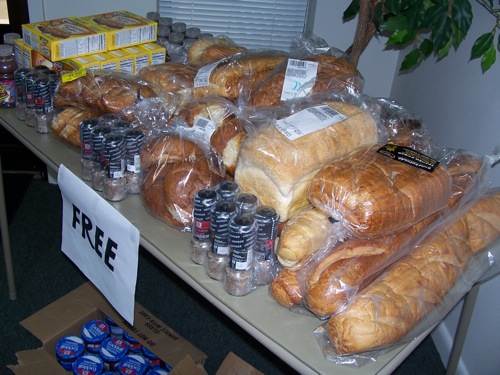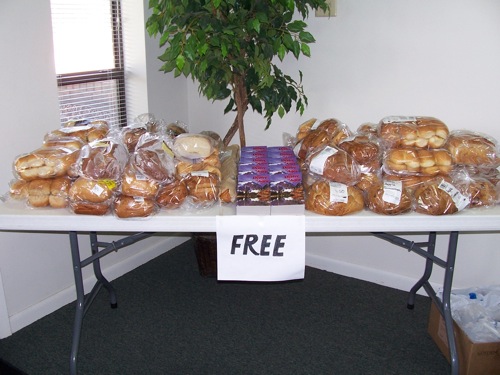 I found out since we were a non-profit organization, and by wanting to do something for the community, we could apply for a grant from our local Wal-Mart. We applied for a grant and asked for $2,000 from the local Wal-Mart and now we are waiting for their approval. You can go to online www.walmartfoundation.org  for more information.
A friend of mine, Mrs. Kim has been ordering some of my cookbooks to share with others, and she believed so much in our soup kitchen ministry that she donated $431.00 for our soup kitchen.  Her donation really touched my heart and it really came in handy, because we needed to build a second pantry.  God knows how to take care of His soup kitchen.
One day I had the opportunity to share what God has been doing in our soup kitchen with a person that I met while attending a funeral.  He was so excited to hear what God was doing with this outreach and he told me that he wanted to be part of God's soup kitchen. To my surprise I received a check from him for $500.00.  I am really shocked that he donated so much, but I am thankful for his willingness to be part of God's soup kitchen.
The Soup Kitchen is where people can come and eat a free delicious healthy meal and enjoy wonderful fellowship with each other. We have many needy and lonely people who are coming and they just love the fellowship.  Many people from the community don't know that the Seventh-day Adventists are Christians. We are sharing Jesus' Love through Our Action. I believe that Action is always louder than Words.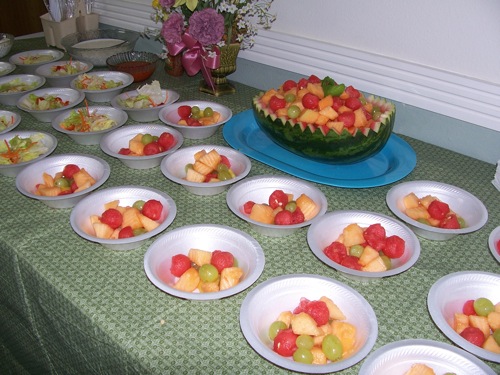 I would like to promote this SOUP KITCHEN MINISTRY to every church.  It is a wonderful ministry, because it opens up the church and it also lets the community know who we are just by feeding God's people.  It is just a great way to show the community just how much we care for them!
More miracle stories will be coming by God's grace!